Making VR experiences interactive for audiences
Over the past year our CTO Stuart Cupit kicked off a collaboration with artist and Ph.D. researcher Leslie Deere on an innovative new artwork called Array Infinitive. Based upon combining both a VR installation with real-time audio-visual performance, the experience positions the audience within a collective meditative style virtual world.
MEDITATIVE SOUNDS THAT MOVE
Developed as part of Deere's PhD research, with core themes exploring gestural audio-visuals, colour theory, the chakra system, altered states, sound installations and collective experience; the work references artists Hilma af Klint, James Turrell and Ann Veronica Jannsens. During the live experience, dancerley movements not only create reactive audio, but generate VR visuals as well. With the performer centred within a group, the human gestures control the sounds and particle trails in real-time which are replicated in a live virtual environment. With animated ribbons of colour and painterly abstract geometric worlds.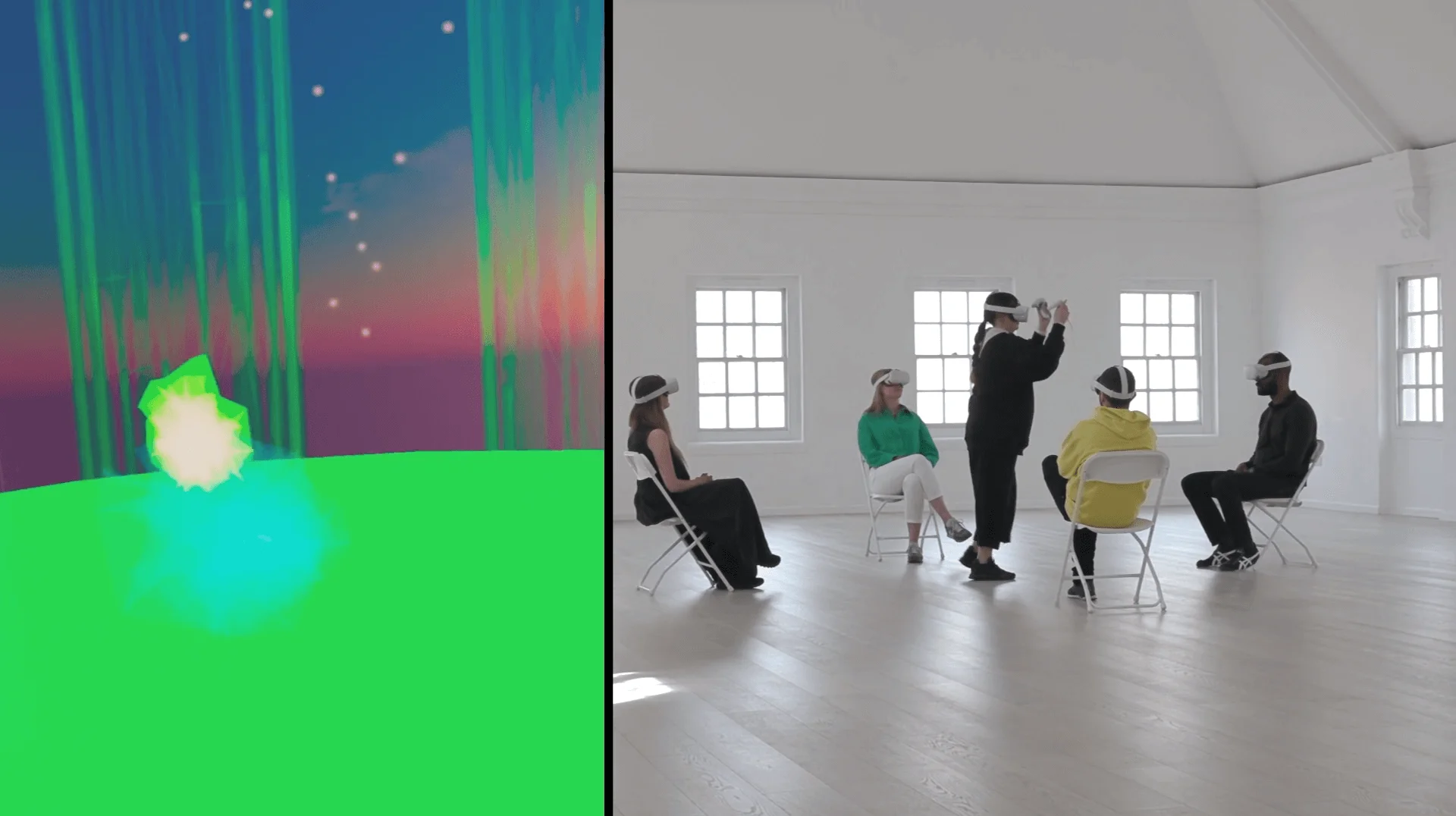 With Unity development lead by Stuart Cupit, Chris Speed on VFX, and gesture interface by Ross Flight. The project links any number of VR headsets over wifi on a local network for a synchronised shared experience. The performer's movements are sent using Open Sound Control to MaxMSP and Ableton to alter the audio in response. Ambisonic speakers fill the performance space, creating a spatially immersive audio experience that can be felt.
Recorded with several Glasgow based musicians including Scott Morrison on Clarsach, Sarah Mcwhinney on Cello, Kyalo Searle-Mbullu on Processed Percussion and vocals from the Glasgow School of Art Choir – Ronan Breslin, Vocal Sound Engineer at LaChunky Studios, Finnieston Glasgow masterfully layered sounds that would match the atmosphere and movement within the VR space.
Take a look at a film produced by Mind The Film and Leslie Deere narrating the artist's latest performance work (currently in beta version).
FANCY EXPERIENCING IT LIVE?
Leslie Deere will be showing Array Infinitive at Breaking Convention 2023 on April 21-22. 
The experience previously debuted at the Centre for Contemporary Art in Glasgow and was shown in London summer 2022.
Iklecktic: Research Sessions: Sat 11 June
EVA London Conference: Thurs 7 July 
Iklectik presents Post Grad: Tues 26th July
Iklecktic: Performance: Weds 27 July
We're always looking to expand our network of creative collaborators, from technical specialists to people that work in more traditional art forms. LAUNCH exists to blend the barriers between creative practices and new tech. Get in touch to explore ideas.